Class 3A Week 0 Rankings, Notes & Picks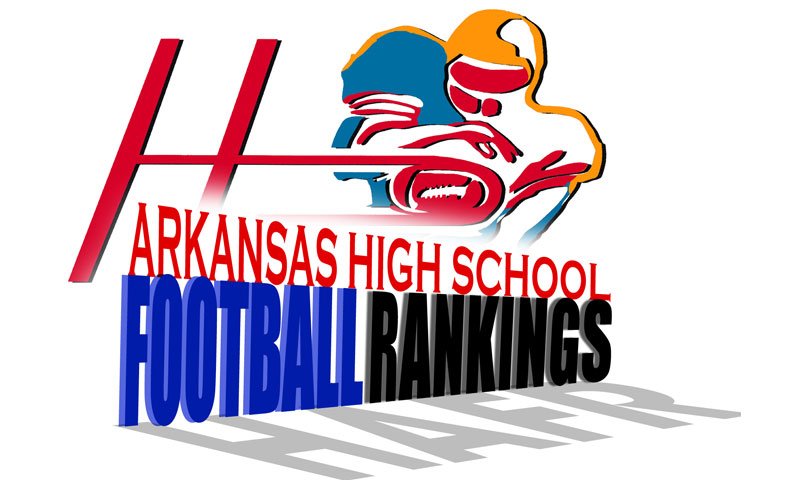 Hootens.com Rankings
Class 3A, Week 0, 2022
Copyright Seventy Seven's Football Publishing, LLC

1.     Prescott
2.     Booneville
3.     Hoxie
4.     Glen Rose
5.     C. Harmony Grove
6.     Charleston
7.     Rison
8.     Newport
9.     Melbourne
10.  Paris
11.  Fordyce
12.  Hackett
13.  Junction City
14.  Gurdon
15.  Perryville
16.  Osceola
17.  Bismarck
18.  Lavaca
19.  Jessieville
20.  Manila
21.  Quitman
22.  Centerpoint
23.  Magnet Cove
24.  Cedarville
25.  Lake Village
26.  Dollarway
27.  Smackover
28.  Fouke
29.  Walnut Ridge
30.  Atkins
31.  Salem
32.  West Fork
33.  Greenland
34.  Mansfield
35.  Corning
36.  Danville
37.  Barton
38.  Horatio
39.  Parkers Chapel
40.  Yellville-Summit
41.  Piggott
42.  Palestine-Wheatley
43.  Two Rivers
44.  Drew Central
HOOTENS.COM GAME OF THE WEEK
No. 8 NEWPORT (2) at No. 16 Osceola: Both teams are expected to challenge for respective titles in 2-3A and 3-3A. Senior Dylan Braxton is back for Newport after passing for 1,200 yards last season. Brian Reardon has replaced Mark Hindsley as head coach at Newport. The Greyhounds started 2021 with a lopsided loss to No. 1 Prescott, and lost again to the Curly Wolves in the third round of the playoffs, 47-6. Braxton has a big-time target in 6-5 senior WR Isiah Kendall. Senior Kylan Crite (727 yards, 9 TDs) was Newport's leading receiver in 2021.

LAST YEAR
Hootens.com correctly picked 259 of 315 games (82 percent) involving Class 3A games.
PREDICTIONS (Favored team in CAPS followed by point spread)
1-3A
No. 2 BOONEVILLE (28) at Dollarway: Booneville senior QB Peyton Tatum takes over from graduated Randon Ray to direct one of the state's most dominant running games. Junior FB Rylen Ray and junior RB Dax Goff combined for nearly 2,000 yards in the Bearcats' flexbone. Dollarway won four of its final six games to finish 5-5 in 2021. Booneville hosts Ozark next week, while Dollarway travels to Texarkana.
No. 12 HACKETT (1) at Centerpoint: Hackett coach Michael Meador says he believes the matchup with Centerpoint, the first meeting between the two schools, will be a measuring stick for his team. "We can see how we are early," Meador said. Centerpoint lost in the third round of the playoffs to eventual Class 3A champion Harding Academy. Hackett starts 2022 with 25 players. Junior QB Cole Ketchum and senior LB Michael Killian provide the Hornets' leadership. Centerpoint senior linebackers Jace Clark and Jaxon Harmon have been impressive for the defense this August. The Knights have 39 players fighting for starting jobs.
West Fork at Class 4A GREEN FOREST (2): West Fork lost to Green Forest 14-7 last season, but the Tigers return 18 starters (9 on both sides). Senior QB Eli Howerton returns. Junior Gavin Looney has converted from the offensive line to running back. Senior backs Jacob Cravens and Colby Smith have been impressive in practice in the Tigers' Wing-T. Green Forest, which won twice last season, has eight wins over the past five seasons. Senior QB Isaiah Fraga leads the offense. A defense that returns two starters will no doubt be tested by West Fork, which leads the series, 7-6.
Greenland at CLASS 4A LINCOLN (7): Lincoln won three games last season, including a 32-14 victory against Greenland. Lincoln returns seven starters on both sides of the ball, led by junior QB Drew Moore (1,853 yards, 13 TDs). Moore passed for 269 yards and 2 TDs in last season's win over Greenland, but Lincoln Coach Reed Mendoza is concerned about Lincoln's experience, depth, and lack of size. Greenland slipped to two wins last season after nine in 2020. The Pirates also have seven starters back on both sides. Senior Max Meredith, the second-place finisher at the state weight-lifting meet, returns at QB.
OPEN: CHARLESTON, LAVACA            
Class 3A MANSFIELD (34) at Magazine: Mansfield returns 20 starters and 12 seniors from a team that routed Magazine 41-7 last season. Mansfield's offense features senior QB Fisher Willsey, who earned all-conference honors while totaling 1,094 yards and 15 TDs. Willsey, senior lineman Braxton Byers and senior tight end Kindel Noblitt, have impressed Coach Tim Cothran in early practices. Magazine's only varsity win in 2021 was against J.C Westside. The Rattlers also beat Waldron's junior varsity.
2-3A 
Class 4A Bald Knob at No. 9 MELBOURNE (7): First-year coach Stu Smith inherits nine starters on both sides of the ball at Melbourne. Senior QB Trey Wren is a dual threat for BearKatz. Less than half of Bald Knob's starters return from a 1-9 team. There's competition at QB between senior Reece Moody and junior James Holder.
Cedarville at PERRYVILLE (1): Cedarville, 9-3 last season, starts with 32 players, having lost a strong senior class to graduation. Cedarville survived a tough scrimmage with Quitman. Senior QB Lane Hightower and junior LB Colton Arnold have been impressive in early outings. Perryville finished 7-4 after starting last season 6-1. The Mustangs lost three of their final four games, bowing out of playoffs to Melbourne.
SALEM (6) at Class 2A Earle: Salem coach Josh Watson greeted 38 players in August and is counting on senior leadership from WRs Dalton Steward and Ayden Swingle. Salem is fairly healthy. Junior lineman Luke Foster suffered a dislocated finger in practice but will play against veteran Earle team, which finished 4-6 last season for long-time coach Albert Coleman.
Class 2A Conway Christian at QUITMAN (21): Quitman routed Conway Christian last season, 52-8, but Conway Christian is loaded with young talent from a 10-0 junior high team. Sophomore QB Jeryn Thomas could be key to turning the fortunes for Conway Christian, which finished 1-9 last season and has five wins in the past three seasons. Quitman returns 17 starters after finishing 8-4 and advancing to the third round of the playoffs.
Atkins at Class 2A BIGELOW (2): Bigelow was 11-0 before losing 16-13 to Hazen in the second round of playoffs. Junior QB Rhett Neumeier returns. Senior Chance Page leads the defense after recording 9 sacks last season. Atkins, which lacks numbers, is coming off a 5-5 season, its fewest wins since 2014.
Class 2A Baptist Prep at YELLVILLE-SUMMIT (6): Baptist Prep, which returns seven starters from a 5-5 team, lost to Yellville-Summit 14-0 in last year's season-opener at Baptist Prep. Yellville (4-7) hasn't had a winning season in a decade. A commitment to gaining strength in the off-season and the return of 13 starters gives the Panthers a shot to improve.
 3-3A
Class 4A Trumann at No. 3 HOXIE (7): Trumann senior QB Murphy Williams totaled more than 2,000 yards last season. Senior FB Eli Evett ran for 544 yards and 10 TDs for the Wildcats' 8-4 squad. Trumann's lines lack experience. Hoxie bowed out of the playoffs in the second round at 11-1. Senior Sage Treadwell is front-runner at QB, but junior Kayden Glenn is expected to play in certain packages. Glenn was all-conference receiver last season. Hoxie's defense held six opponents to six points or less.
No. 8 NEWPORT (2) at No. 16 Osceola: See Game of the Week above.
Class 4A HIGHLAND (4) at WALNUT RIDGE: Highland counting on strong sophomore class after finishing 2-8 last season. Highland won last year's encounter, 30-20. Walnut Ridge coach Jeffery Blake says his team, which finished 4-7 last season, is healthy and looking good with a 31-player roster.
Portageville, Mo. at CORNING (6): Corning coach Farrell Shelton has 25 players on the roster, after losing several to injuries and moving. Senior OG/LB Jackson Davis has been a standout early in camp. Senior center Tim Hufford has taken over the leadership role on the offensive line. Portageville is athletic and experienced.
Piggott at Class 4A GOSNELL (14): Piggott, coming off back-to-back 1-9 seasons, lacks speed and numbers (22 players on the roster). Junior Mason Dixon and sophomore Ben Latimer are competing at QB. Senior WR Joe Carpenter (4.7 speed) is the team's fastest player. Gosnell (1-8 last season) returns 16 starters and has the home field in this matchup.
Class 2A CARLISLE (7) at Palestine-Wheatley: Carlisle won the regular-season finale over England to reach the playoffs with 1-9 record. Palestine-Wheatley (0-9, including 2 forfeit losses) did not score in six of the seven games it played.
Class 4A RIVERCREST (6) at Manila: Rivercrest plans to use overall team speed and strength at skill positions to outscore the opposition. Senior RB Jaden Stovall is back from an ACL injury. Manila finished 9-3 in 2021 under first-year coach Cain White after going 1-9 in 2020. Junior Felipe Lozano moves from slot back to QB this season.
4-3A
Glen Rose at Class 4A CROSSETT (7): Crossett's running game appears to be in good hands with seniors Tayshawn Paskel and Cam'Ron Holmes. Junior RB Isaiah Bunton is also expected to contribute. New Crossett coach Vincent Newton must find replacements for 14 graduated seniors. Glen Rose, a proven winner with coach Mark Kehner, returns six defensive starters from a unit that allowed seven points or less in half of its games. Senior Carter Dhane (6-2, 340) is Kehner's biggest player on defense.
Class 2A Mineral Springs at JESSIEVILLE (20): There was talk of Mineral Springs dropping to 8-man football in 2021, but the Hornets played the 11-man game and reached the playoffs with an 0-8 record. Jason Hathcock is new head coach at Mineral Springs. Jessieville must replace QB Carson Hair and RB Matthew Huff. Sophomore Dalton Ellison and senior Hunter Thomas are top candidates to replace Hair.
PRESCOTT (31) at Bismarck: Prescott is 15-0 against Bismarck, and the Curley Wolves begin the 2022 season ranked No. 1 in 3A. Prescott has 50 players out, including senior QB Carston Poole, who led 3A in passing last season (115 of 166 for 2,336 yards and 30 TDs). Junior RB Noah Cox is back. The defense returns eight starters, led by Army commit Travion Dickens, a senior who is expected to contribute on both sides of the line. Senior MLB Tidorian Thompson is an all-state player. Junior Jason Patrick led the Curley Wolves with 193 tackles. Dickens had 145 tackles. Senior QB Ian Smith is Bismarck's playmaker. Bismarck lost to Prescott twice in 2021, including 28-14 in the playoffs. It was Bismarck's first winning season in seven years.
No. 12 HACKETT (1) at Centerpoint: Hackett coach Michael Meador says he believes the matchup with Centerpoint, the first meeting between the two schools, will be a measuring stick for his team. "We can see how we are early," Meador said. Centerpoint lost in the third round of the playoffs to eventual Class 3A champion Harding Academy. Hackett starts 2022 with 25 players. Junior QB Cole Ketchum and senior LB Michael Killian provide the Hornets' leadership. Centerpoint senior linebackers Jace Clark and Jaxon Harmon have been impressive for the defense this August. The Knights have 39 players fighting for starting jobs.
MAGNET COVE (12) at Class 2A Poyen: Magnet Cove is jumping up to 3A, and is led by  senior QB Jacob Clausen. Coach Caleb Carmikle says Clausen plays with confidence. Senior RB Julius McClellan is dangerous running and catching passes out of the backfield. Junior Brayden Hull moves from WR to QB for Poyen, which must replace nine graduated starters on offense. Look for Poyen to start slow, but challenge for a playoff spot before the season ends.
Class 2A MOUNTAINBURG (2) at Danville: Zach Dean takes over as coach at Mountainburg, which will alternate at QB with junior Shay Pixley as the primary passing threat, and senior Kai Baldwin leading the ground attack. Danville started August practice with 17 players, but second-year coach Kody Hamlin expects 20 by the end of the month.
Class 2A England at TWO RIVERS (1): England (0-9 in 2021) has fallen from top of 2A to the bottom in six years. England posted back-to-back 13-1 seasons in 2015 and 2016. Two Rivers, 0-10 last year, has another new coach in Jonathan Ellis.
5-3A
Lafayette County at GURDON (14): Gurdon beat Lafayette County 60-18 last season and the Go Devils are picked to finish second in 5-3A behind state finalist Prescott. Lafayette County returns starters at 18 positions for first-year coach Adrian Ivory, who inherits quality skill players, but small linemen.
FOUKE (1) at Class 2A Dierks: Fouke finished 2-8 when playing 18 sophomores in 2021, and Coach Jerry Littleton is counting on those same players to improve with experience. Dierks' projected QB moved to De Queen in June. Senior all-state running back Eli Sharp rushed for 266 yards and 6 TDs against Murfreesboro and is back and looking good.
CAMDEN HARMONY GROVE (10) at Junction City: Junior all-state QB Caleb Johnson (1,670 yards, 20 TDs) returns to lead Camden Harmony Grove. Junior playmaker Landon Garrett caught 8 TD passes. Junction City has won 60 games over the past six years, but the Dragons are moving up to Class 3A. Junction City returns five starters on both sides. David Carpenter (218-65-1 with 6 state titles in his previous tenure) is back to coach the Dragons after spending the past five years as dean of students.
HORATIO (2) at Foreman: Third-year coach Lantz Castleman says Horatio, led by junior QB Grayson Porter, is geared up to make its first playoff appearance in five seasons. Senior Kevin Quiroz takes over at RB after serving as a backup last season. The Lions have size in the lines, but depth is a concern. Foreman, 2-9 in 2021, returns 12 starters, seven on defense for first-year coach Jared Jackson. Senior Hunter Fowler, who threw for more than 800 yards and 6 TDs last season, is back for his third season at QB.
Class 4A MAYFLOWER (2) at Smackover: Smackover's 23-player roster includes DKylan Hildreth, an all-conference receiver last season who has been impressive after moving to QB. Coach David Osborn says Hildreth gives his team a different look. "We've probably had our best July and first week of practice in years,'' Osborn says. Sophomore WR Gunner Zeek is banged up from a car accident but is expected back for Smackover. Mayflower senior QB Noah Gale starts for a third season after totaling more than 2,000 yards and 19 TDs in 2021 for an Eagles team that finished 2-8.
6-3A
No. 7 RISON (18) at Class 4A Dumas: Rison had four seniors last season and still won eight games. Numbers are up this year, and Rison is picked first in 6-3A. Dumas won two games last season, but the Bobcats return all-conference QB Joseph Jones, who threw 10 TD passes and sophomore RB Tylan Bell, who fractured his ankle last October. The Bobcats won nine games in 2020.
Class 4A MONTICELLO (7) at Fordyce: Monticello returns four starters on each side of the ball after finishing 5-6 with a 42-7 first-round playoff loss to Stuttgart. Fordyce makes the jump to Class 3A after winning 38 games the past three seasons. McCrory beat Fordyce in the 2A title game last year.
Class 4A HASKELL HARMONY GROVE (6) at Lake Village: Harmony Grove's Diamond T will feature a six-man rotation, with senior Irvin Guerrero and junior Tristen Hogan expected to get a big share of carries. Coach Mike Guthrie's team is big and strong on the defensive front. Lake Village also likes to run the football, led by junior TB Aquavious Dunbar, who ran for 1,048 yards and 14 TDs last season. Senior Camarious Lee is also a big-time threat. The Beavers return 14 starters.
Class 4A DEWITT (15) at Barton: Thirteen starters return at DeWitt, eight on the defensive side, for second-year Coach Tommy Cody. DeWitt went 6-5 in Cody's first season, ending with a 28-20 playoff loss to Malvern. Injuries spoiled what might have been an even better season. Barton's 1-8 record included seven losses by three touchdowns or less.
Class 2A Bearden at DREW CENTRAL (12): Bearden's Wing-T offense sputtered last season, scoring a touchdown or less in eight games, en route to an 0-11 finish. Brandon Austin takes over as head coach. A move to 4-2A might enhance Bearden's prospects in 2022.  Coach Larry White takes over a Drew Central team that was winless last season. Several Division II colleges have shown interest in senior QB Kade Bodiford, who is a dual threat.