Class 5A Week 4 Rankings, Notes & Picks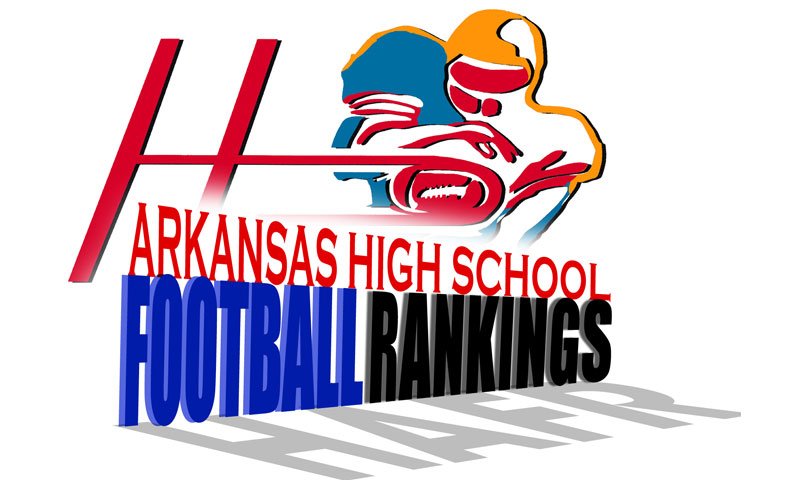 Hootens.com Class 5A Rankings
Week 4, 2022
Copyright Seventy Seven's Publishing
1. LR Parkview (1-2)
2. Joe T. Robinson (2-1)
3. Shiloh Christian (2-1)
4. Farmington (2-1)
5. Magnolia (3-0)
6. Wynne (2-1)
7. Camden Fairview (2-1)
8. Nettleton (3-0)
9. Mills (4-0)
10. Hot Springs (2-1)
11. Beebe (3-1)
12. White Hall (2-2)
13. Morrilton (3-1)
14. Maumelle (2-1)
15. Valley View (2-1)
16. Batesville (2-1)
17. Harrison (2-1)
18. Alma (3-0)
19. Prairie Grove (2-1)
20. Vilonia (1-3)
21. Pine Bluff (2-1)
22. HS Lakeside (0-2)
23. Watson Chapel (1-3)
24. Southside (2-1)
25. Texarkana (1-2)
26. Brookland (1-2)
27. Dardanelle (2-1)
28. Pea Ridge (2-1)
29. Clarksville (0-3)
30. Hope (0-2)
31. Paragould (1-2)
32. De Queen (0-3)
33. Forrest City (0-3)
WEEK 4 PREDICTIONS (favored team in ALL CAPS and highlighted in yellow)
HOOTENS.COM GAME OF THE WEEK 
5A EAST: NO. 8 NETTLETON at No. 16 Batesville
Batesville has won 17 of the past 21 over Nettleton, but Nettleton has won 3 of the past 4. Batesville, which has finished below .500 3 of the past 4 seasons, may have turned a corner two weeks ago by scoring the final 11 points of regulation, then converting a 2-point play in overtime for a 25-24 victory over Harrison. Batesville senior Holden Hutchins ran for 2 TDs vs. Harrison, and averages 5.2 yards per carry this fall. Senior QB Rhett McDonald has passed for 393 yards and 2 TDs, while linemen Keyan Hennings and Allen Nguyen have played well. Junior Gabe Witt, who ran for 5 TDs Week 0 against Class 6A Searcy, should return from injury this week. "They have a veteran offensive line that plays physical," Nettleton Coach Steven Hampton says. Junior LBs Beau Baxter (19 tackles) and Mike Townsley (38 tackles), and senior DT Isaiah Garcia (16 tackles) lead the Pioneers' defense.
Undefeated Nettleton has beaten Mountain Home, Pocahontas and Blytheville by a combined 20 points. Versatile junior Curtez Smith has 613 yards (291 rushing, 322 receiving) and 10 TDs this fall, while sophomore QB Maddox Hampton has passed for 564 yards and 7 TDs. Senior MLB Blake Brown has 34 tackles and senior DT Jordan Pigram has 24 tackles, including 6 TFL. "Nettleton is physical on both lines and they fly around on defense," Batesville Coach Ryan Morrow says.
LAST WEEK
Hootens.com correctly predicted 8 of 12 games (67 percent). Hootens.com has correctly predicted 68 of 86 games (79 percent) involving 5A teams this season.
5A CENTRAL
MORRILTON at Beebe: Morrilton has beaten Beebe in nonconference games the past two years by a combined 72-33, with last year's game going to the wire. The Devil Dogs surrendered more than 400 yards in the first half of last week's 56-14 setback to defending Class 4A state champ Joe T. Robinson. Beebe recovered an onside kick with 55 seconds left last week to preserve a 14-7 triumph at White Hall. Sophomore Kiandrea Barker led the Badgers with 15 carries for 141 yards, including the decisive 92-yard TD sprint in the third quarter.
Pine Bluff at MAUMELLE: These teams are meeting for the first time. Pine Bluff QB Will Howell threw 2 TD passes in last week's 30-12 loss to Vilonia. Maumelle started the season 2-0 before losing to White Hall 44-24 two weeks ago, despite rolling up 374 yards. The Hornets led 14-0 in the first half before giving up 41 unanswered points.
JOE T. ROBINSON at Watson Chapel: Watson Chapel committed 4 turnovers in last week's 28-point loss to Mills. Watson Chapel QB Marquez Brentley threw 2 TD passes, while Daniel Nelson caught a TD pass on offense and made 3 tackles, and broke up 2 passes in the secondary. Joe T. Robinson amassed more than 400 yards and scored 49 points in the first half of last week's 42-point win at Morrilton. Sophomore QB Quinton Murphy passed for 220 yards and 4 TDs.
MILLS at White Hall: White Hall has won 8 of the past 11 over Mills. White Hall Coach Ryan Mallett says the Bulldogs must avoid falling into early deficits, which they overcame against Sheridan and Maumelle. Last week they fell behind Beebe 14-0 in the third quarter last week before losing 14-7. The Bulldogs held Beebe to 194 yards. Mills' Daniel Brown set the tone last week by returning the opening kickoff for a TD in a 42-14 victory over Watson Chapel. Senior Jabrae Shaw intercepted 2 passes (returned 1 for a TD) and recovered a fumble.
OPEN Vilonia.
5A EAST
Forrest City at SOUTHSIDE: Forrest City played its best game of the season last week, losing to Stuttgart 37-26. Southside has won consecutive games. The Southerners ran for 445 yards two weeks ago at Heber Springs. Junior Seth Case ran 15 times for 242 yards vs. Heber Springs.
WYNNE at Brookland: Wynne suffered its first loss, falling to Magnolia 21-7. Fullback Cobey Davis led Wynne in rushing, but Coach Van Paschal says there is room for improvement. "We must continue getting better at the little things," Paschal says. Sophomore MLB Cam Smith and OG/DT Garrett Adamson have played well. Brookland led Gosnell 10-6 in the second quarter of Week 1 before losing by 11 points, and the Bearcats gave up more than 300 rushing yards to Pocahontas two weeks ago.
Paragould at VALLEY VIEW: Valley View is 12-0 all-time vs. Paragould. The Blazers have defeated Poplar Bluff, Mo., and Rivercrest in their past two games. Junior QB Carson Turley has passed for 413 yards and 3 TDs and rushed for 229 yards and 3 TDs this fall, while senior safety Carson Winters has a team-best 25 tackles.
5A SOUTH
LR PARKVIEW at Hot Springs (Thurs.): LR Parkview committed a turnover in the first overtime of last week's 28-27 double-OT loss at Class 7A North LR. Sophomore Monterrio Elston ran for 2 TDs and caught a TD pass. Hot Springs QB Matthew Contreras completed 15 of 25 passes for 376 yards and 8 TDs (4th most in state history) in last week's 61-30 victory over Class 7A LR Southwest. WR Octavious Rhodes caught 7 passes for 178 yards and a state-record tying 5 TDs, while LB Kendall Williams led the defense with 13 tackles, including 4 TFL.
HS Lakeside at CAMDEN FAIRVIEW: Camden Fairview has won 12 of the past 16 over the Rams, but they've split the past two seasons in games decided by a combined 9 points. HS Lakeside gets big plays from senior WR Kyler Wolf, who caught 10 passes for 136 yards in the opener vs. Class 6A unbeaten Lake Hamilton. Camden Fairview has won consecutive games — over El Dorado and Dollarway by a combined 87-21. OG Jeremy Whitney has graded out as the most consistent lineman, Camden Fairview Coach Nick Vaughn says. Sophomore RB/WR Trent Haygood makes big plays. "The sky is his limit," Vaughn says. Senior LB Michal Griffith and DE Kameron Easttam are leaders on defense.
HOPE at De Queen: De Queen hasn't won since beating Fouke 14-7 in Week 3, 2021. That was the Leopards' first win since beating Hope in 2018. Hope's two wins in 2019 and 2020 were over De Queen, and the Bobcats beat De Queen last season by 32 points.
Texarkana at MAGNOLIA: Magnolia beat Texarkana last fall by 27 points, but the Razorbacks upended Magnolia in 2018 and 2019. Texarkana junior QB Nate Wall has passed for 338 yards and 3 TDs this season, while sophomore RB Courtland Loudermill averages 11 yards per carry. Magnolia relies on defense, defeating Wynne 21-7 a week ago. Coach Mark King says senior LB Fred Davis and junior Ryder Jackson played well, while senior RB Garrion Curry finished with 27 carries for 144 yards and 2 TDs. "The offensive line controlled the line of scrimmage in the second half," King says.
5A WEST
Clarksville at ALMA: Clarksville surrenders 47 points per game. Senior Arthur Alvaraz ran 17 times for 169 yards and 3 TDs two weeks ago against Elkins. Alma (3-0) is off to its best start since going 12-1 in 2004. The Greyhounds have forced 6 turnovers and recorded 14 sacks this season. Senior QB Joe Trusty completes 66.7 percent of his passes for 355 yards and 3 TDs, and he's rushed for 172 yards and 3 TDs. Junior WR Drake Stogsdill has 15 receptions for 238 yards and 1 TD.
FARMINGTON at Harrison: Harrison has won 7 of the past 9 over Farmington, but the Cardinals notched a wild 36-35 triumph a year ago, blocking 3 punts and scoring a defensive TD to hand Harrison its first conference loss in 3 years. Farmington started this season with mercy-rule wins over Class 6A Greenbrier and Class 7A Springdale before losing a 52-39 shootout to Class 7A unbeaten Rogers two weeks ago. Junior QB Cameron Vanzant, WR Peyton Funk and RBs Russell Hodge and Luke Elsik have led the offense, while Dave Stettmeier and Carter Moad are among the many players to lead the defense so far, Coach J.R. Eldridge says. Harrison must recover from a one-point overtime loss to Batesville two weeks ago. Junior Braden Long ran for 2 TDs against Batesville. Senior WR/DB Talon Stephens has played well, Coach Chris Keylon says.
PRAIRIE GROVE at Pea Ridge: Prairie Grove has won 11 of the past 16 over its former conference rival. The Tigers played poorly in last week's 41-21 setback at Tulsa Metro Christian. "They beat us in every aspect of the game," Prairie Grove Coach Danny Abshier says. "We tried hard but they were much better." DL Joe Sims broke his leg and may miss the remainder of the season. Pea Ridge surrendered 750 yards and never stopped a Gentry drive last week in a 59-28 loss.
Dardanelle at SHILOH CHRISTIAN: Shiloh Christian has a 3-0 all-time record vs. Dardanelle. The Saints beat Tulsa Lincoln Christian, one of the top-ranked teams in Oklahoma, 42-35 a week ago. Junior Dax Widger recovered a fumble in the final minutes to seal the victory. Junior Bo Williams ran 20 times for 96 yards and 2 TDs, while senior QB Eli Wisdom passed for 246 yards and 2 TDs and ran for 161 yards. Dardanelle's only loss this season was at Class 3A power Rison by 16 points in Week 2. Senior Drew Vega ran 11 times for 127 yards and a TD and passed for 177 yards and a TD at Rison. Vega also returned a punt 84 yards for a score. Drake Boatright led Dardanelle's defense with 12 tackles, while Asher Hodges had 12 tackles, 2 TFL, and 1 forced fumble.