HOGS: Health priority next 2 weeks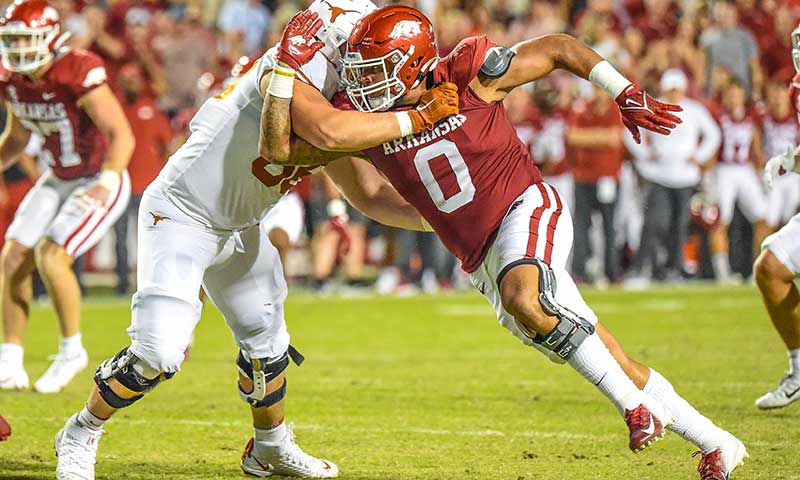 FAYETTEVILLE -  Starting defensive tackle Markell Utsey remains sidelined for Saturday's non-conference game against Arkansas-Pine Bluff (UAPB), but starting cornerback LaDarrius Bishop should resume, Arkansas head coach Sam Pittman said Wednesday.
UAPB takes on Arkansas at 11 Saturday morning at War Memorial Stadium in Little Rock. The SEC Network plans to televise the game. 
Utsey (#0 in Craven Whitlow photo above), Bishop and preseason All-America safety Jalen Catalon missed Arkansas' 38-23 SEC Homecoming loss last week to Auburn in Fayetteville.
Catalon had shoulder surgery Monday and will miss the rest of the season.
QB THE DEFENSE
Sophomore Myles Slusher of Broken Arrow, Okla., replaced Catalon as the starting safety against Auburn. Slusher not only replaces Catalon physically but quarterbacks the defense, making sure all properly align on each play.
"Obviously (fourth-year junior semi-regular safety) Simeon Blair, when he's in there, he's able to do that," Pittman said.  "But we're hoping Slush kind of takes over that spot of doing that. If Slush isn't in there, it'll probably be Malik (Chavis). We're feeling like those guys can do that as well. Last year against LSU when Jalen went out, we looked a little bit confused back there. I don't think that'll be the case now. We've got guys who are at least a year older, and Slush played a lot of ball last week."
D-LINE CHALLENGED
Though Utsey won't be a part of it, Pittman looks for better things from a defensive line that helped Arkansas, now 4-3,  to a 4-0 start with stellar performances in upset victories over Texas and Texas A&M. The line has not fared well in successive 37-0, 52-51 and 38-23 SEC losses to No. 1 Georgia, No. 12 Ole Miss and No. 19 Auburn.
"As a unit, we have to play better," Pittman said. "Going back to Texas A&M and Texas and Georgia Southern and Rice, I think the D-line played better. But I think we'll get back to that again with Ridge (noseguard John Ridgeway) and Utsey and those guys. They've been beat-up. I think Ridge will be healthy this weekend. 'Uts,' probably another week out."
UNDERDOG UAPB
UAPB, a 50-point underdog as a 1-5 team down a division (FCS instead of the top division FBS that includes Arkansas) and the SWAC (Southwestern Athletic Conference), isn't the SEC caliber that beset Arkansas these past four games.
However, off Arkansas' three-game losing streak, Pittman and the staff take nothing for granted as they try to kick start the Hogs into next week's open date. In the Hogs' final November stretch, they play host to Mississippi State in Fayetteville, visit LSU and Alabama and finish in Fayetteville against Missouri.
"We're just worried about our own team this week and getting back on track," Pittman said. "Try to get poised to make a run.  Certainly you can't make a run if you don't win the first one."
As for Bishop, out with a hamstring injury last week and replaced at starting cornerback by Hudson Clark, he's "ready to go," Pittman said.
O-LINE HONORED
Though the Razorbacks have lost their past three games, their offensive line has attained national recognition.
Arkansas is among 19 teams on the midseason honor roll for Joe Moore Award postseason honoring the best offensive line unit in the country.
The line starts center Ricky Stromberg, guards Brady Latham and Beaux Limmer, left tackle Myron Cunningham and Ty Clary replacing the injured Dalton Wagner at right tackle. It has paved the way to 243 rushing yards and 459.7 yards total offense per game.
Pittman said the running game, featuring junior running backs Trelon Smith, sophomore Dominique Johnson strictly on special teams last year, and true freshmen Raheim "Rocket" Sanders and AJ Green, starts with running QB KJ Jefferson.
"I think a lot of it has to do with KJ Jefferson's ability to run the ball," Pittman said. "My dad was an old coach and his big deal was 'If they don't know where the football is you have a lot better chance of having success running it.' And we've got a lot of that concept in our game. Where is it? Did the quarterback keep it? Are we going to throw it or are we going to hand it off? KJ being a runner and I think we're just a better offensive line than we were last year. And we have three runners we really didn't have last year. I'm counting Dominique in that because he really didn't play much."