HOGS: Hub of productivity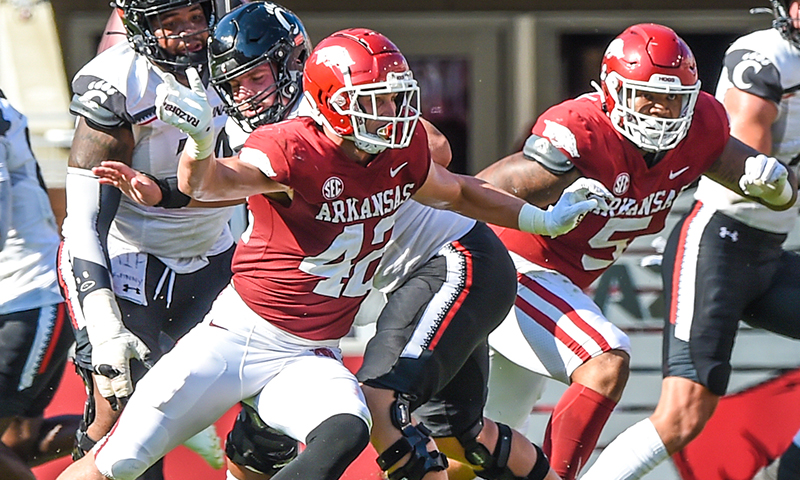 FAYETTEVILLE — The Arkansas Razorbacks received instant production from their transfer-portal platoon during last Saturday's 31-24 victory over Cincinnati at Reynolds Razorback Stadium.
On offense, Oklahoma transfer Jadon Haselwood (3-42 receiving, 1 TD) contributed to the 223 passing yards, along with Toledo transfer Matt Landers (3-43 receiving).
The impact was just as dramatic on defense, which utilized former Alabama LB Drew Sanders (Craven Whitlow photo), former LSU CB Dwight McGlothern (4 tackles, 51-yard interception return), former Georgia DB Latavious Brini (5 tackles) and three defensive linemen – Jordan Domineck (Georgia Tech), Terry Hampton (Arkansas State) and Landon Jackson (LSU).
Domineck played a key role on the defensive line, making 2 tackles and his notable sack of Bearcats QB Ben Bryant and subsequent fumble recovery earned Domineck honors as the SEC defensive lineman of the week.
Domineck spoke highly of his first experience inside Razorback Stadium in front of 74,751 fans.
"It was really electric and something I had really never seen before," Domineck said. "You always see a bunch of places where you can see on TV that the crowds are getting into it. But there's nothing like actually feeling the electricity in the air that was there."
Oklahoma transfer Haselwood has played in front of large and raucous crowds in Norman, and said Saturday's crowd was comparable.
"The environment was amazing," Haselwood said. "It's obviously something that I'm used to and I hope that it gets better and better every week."
STEPPING IN, STEPPING UP

Bryant passed for 325 against the Razorbacks on Saturday, and he could have thrown for more if he had been able to connect with receivers roaming free in the secondary.
Arkansas redshirt junior cornerback Hudson Clark acknowledged Tuesday that other teams may be tempted to go deep.
"I definitely see teams going into the next week looking in the past and seeing what they can try and exploit from our last game," Clark said. "It's been a big carry-over and a big focus for us."
Multiple players had to step up after starters Jalen Catalon and Myles Slusher left with injuries.
One of those players was Brini, who came in when Catalon went down.
"I thought he [Brini] did a good job ... when his number was called," Clark said. "We get the same amount of reps in practice so I was comfortable getting in the game with him as I was with Cat."
The severity of Catalon's injury has yet to be revealed, but Brini has been seen at practice this week running with the first team on defense.
"We're definitely seeing more confidence and more communication out of him," Clark said. "He's holding me and the other defensive backs accountable, so I really like that out of him."
O-LINE PREPARATION

Arkansas' offensive linemen seemingly won the battle against the Bearcats defensive line on Saturday.
Not only did they help contribute to the 223 rushing yards gained, but the line allowed only two sacks of quarterback KJ Jefferson.
Center Ricky Stromberg said he feels the O-line needs to do better in this Saturday's SEC opener against South Carolina.
"I think we need to clean up on the penalties," Stromberg said. "They were killing our drives, making us go backwards. That's been a focus this week."
Stromberg said he knows Arkansas will have their hands full against the Gamecocks, who are anchored by 6-4, 300-pound defensive tackles Alex Huntley and Zach Wilson.
"I think it's a great challenge for us," said Stromberg. "They got two really good guys in the interior line ... so we're definitely excited for this week and the challenge that it brings us."