HOGS get back on track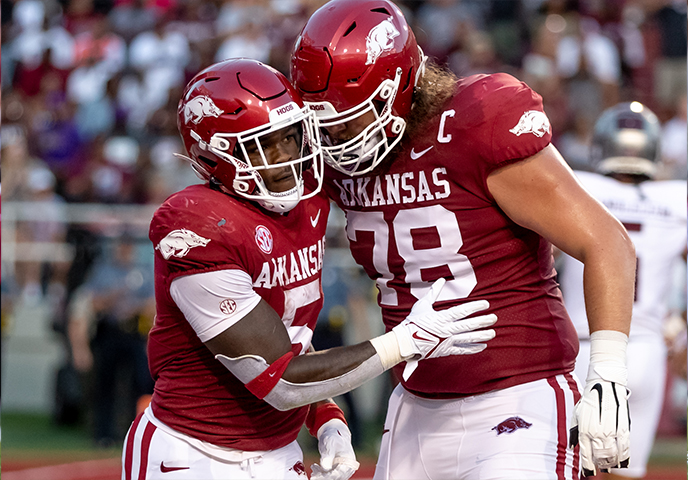 FAYETTEVILLE — The Arkansas Razorbacks ended a 2-game losing streak and earned bowl eligibility with a resounding 42-27 victory over No. 14 Ole Miss on a cold Saturday night at Reynolds Razorback Stadium.

There was no shortage of motivation for Arkansas (6-5, 3-4) heading into the matchup, and Coach Sam Pittman said he had the Razorbacks focus on playing for somebody other than themselves.

"So they had a shirt on underneath that they wrote on with a marker with who they wanted to bring into the family," Pittman said.

It was also about getting the offense back in order, after scoring 29 points the past 2 weeks, and the return of quarterback KJ Jefferson and offensive tackle Dalton Wagner, who missed last week's loss to LSU.

Jefferson, returning from a bruised clavicle, completed 17 of 22 passes for 168 yards and 3 passing touchdowns while rushing for 47 yards on 8 carries.

"I took this game as a challenge knowing that I didn't play last week so I had to come in and make a statement tonight," Jefferson said. "So being able to be back playing was extremely fun."

Wagner's return boosted a rushing attack that had been held to 277 yards the previous 2 weeks, and leading rusher Raheim "Rocket" Sanders returned to his best form after being held to fewer than 100 yards in back-to-back weeks.

Sanders rushed for a career-high 232 yards on 24 carries and scored 3 TDs. Running backs Rashod Dubinion (6 carries, 40 yds) and AJ Green (5 carries, 16 yds) contributed in a run game that combined for 335 total rushing yards.
 "It was so awesome to see him [Sanders] back tonight doing what he needs to be doing," Wagner said. "I think the key decider in it was he trusted us to get the job done. He knew that we were pressing so he would bait it then cut it at the last second. So, for Rocket [Sanders] to have 232 yards, that's insane." 

Sanders' final touchdown came on a 68-yard run on the second play of the second half to give the Razorbacks what proved to be an insurmountable 42-6 lead with 14:16 to play in the third quarter.

Ole Miss outgained Arkansas 394-136 in the second half, and the Rebels outscored the Razorbacks 21-0 in the fourth quarter, but it didn't take away from Arkansas' feeling of accomplishment. 

"It was one of our goals starting out the season to get bowl eligible," linebacker Bumper Pool said. "For it to come against an opponent like Ole Miss is great. We've worked extremely hard all season but had some games that didn't go our way, so we came out tonight saying we're not leaving it to chance."

Arkansas led 35-6 at halftime, outgaining Ole Miss 369-309 and benefitted from two Rebels penalties that negated touchdowns.

Arkansas' 29-point halftime lead was the largest the Hogs have had over an SEC opponent since 2012.

"The only time we've been able to do that since I've been here was against Pine Bluff," Pittman said. "We haven't done anything like that against an SEC opponent, so it felt great."

Ole Miss Coach Lane Kiffin lamented about the penalties that took 14 points off the scoreboard.

"If we have those two touchdowns, the game is very different," Kiffin said.

Matt Landers (3-38 receiving, 2 TDs) led Arkansas' receivers in yardage and TDs, but the production was spread evenly, with Jadon Haselwood (3-36), Ketron Jackson Jr. (2-32, 1 TD) and TE Trey Knox (3-34) would all make key contributions to the pass game.

The Razorbacks gave up season highs in both total yards (703) and rushing yards (463), but the defense forced three key turnovers, including an interception and fumble recovery by linebacker Drew Sanders (10 tackles).

 "Our defense throughout the year has been getting better and better," Sanders said. "We've really been playing as a unit and have come together to keep improving."
Defensive back Dwight McGlothern (8 tackles, 1 PBU) accounted for the final turnover when he forced and recovered a fumble on the Rebel's first possession of the second half. Fellow defensive backs Quincy McAdoo (8 tackles, 1 sack), Myles Slusher (8 tackles), and Hudson Clark (8 tackles) pitched in, along with linebacker Chris Paul Jr. (7 tackles, 1 TFL) and defensive lineman Zach Williams (5 tackles, 1 sack)

The Razorbacks (6-5, 3-4) will now travel to Columbia, Mo., to face the Missouri Tigers (5-6, 2-5) in the Battle Line Rivalry game at 2:30 p.m. Friday on CBS.

Pittman said that the Razorbacks can't coast into the postseason.

"Obviously, we want to go to the best possible bowl game we can go to," Pittman said. "The more wins we have, the better the bowl games we can possibly go to. Of course, Missouri is a rival to us and they are playing some really good ball, but so are we. I'm sure it will be a great game."