Recruiting: Watson Chapel overcomes much to reach 5A semis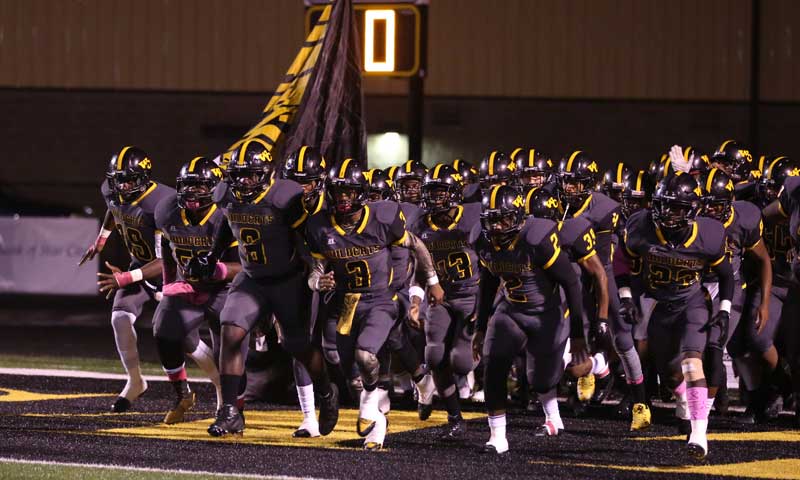 Sr QB JAQUAN DORSEY
No high school team in the state has faced more adversity this season than Watson Chapel.
Coach Jared Dutton spent the latter half of the regular season at Arkansas Children's Hospital with his infant daughter, who had emergency heart surgery on Sept. 28. Dutton only left the hospital to coach on Friday nights during the following five-plus weeks
However, he communicated with assistants (Greg Easter, Matt Gonzalez, Chris Hudson, Bobby Hyatt and Jim Meyers) throughout the weekend to game plan, and talked to them daily about practices.
Dutton returned to school on a limited basis in late October (working half-days) and full-time once the playoffs began. His daughter, Katherine, is out of ICU and may be released by Christmas.
"The assistants and players have been great," the 30-year-old Dutton says. "The seniors are great leaders. This is a special group."
The Wildcats started the year with a 5-2 record, capped with a last-minute, come-from-behind touchdown heave to knock off previously unbeaten White Hall 41-36.
But they lost at Magnolia 21-14 in overtime the following week. Watson Chapel starting quarterback was dismissed from the team after squabbling with Dutton in the latter moments of the game. A starting lineman quit the team the following week and transferred to Pine Bluff.
The attrition forced a freshman to start on the offensive line. The Wildcats lost at home Week 9 to Hot Springs Lakeside by 15 points, evaporating hopes for a conference title and No. 1 playoff seed.
"After that we told them to start over," Dutton says. "It's a new season. We set one goal: to beat (Week 10 opponent) Camden Fairview."
The Wildcats' 2014 and 2015 seasons spiraled with losses to Camden Fairview (lost final three games in 2015 and final two in 2014).
Senior Jaquan Dorsey (6-3, 195) (in Rhonda Sharp photo) shifted from receiver to QB Week 9, and saved the game against Camden Fairview with three timely completions for 101 yards, and 21 carries for 81 yards. The Wildcats eked out a 21-14 victory, claiming the No. 3 playoff seed.
The following week, they trailed 5A Central runner-up Sylvan Hills 21-0 at intermission. Dutton didn't give a halftime speech, allowing three seniors to speak about playing harder.
The Wildcats responded by grabbing a 28-21 advantage with 3:21 left in the game, but Sylvan Hills scored twice in a two-minute span, setting up Dorsey's defining moment. Facing third-and-10 in the waning seconds on Watson Chapel's 47-yard line, Dorsey hit senior running back Davion White down the middle of the field (the same route Watson Chapel used to beat White Hall). White scampered out of bounds at the 4-yard line with two seconds remaining. Dorsey ran for  a TD as time expired, then threw the winning two-point conversion on the following play.
Dorsey was a playmaker in last week's 42-35 win at Alma, completing 15 of 17 passes for 172 yards and two TDs. The stout dual-threat (400-pound squat, 4.6 speed) ran 16 times for 188 yards and another TD. And White (5-9, 180) again made a late play to secure the win. Alma threw a TD pass with 9:50 left, cutting the margin to 35-28, but White returned the ensuing kickoff 76 yards to set up Watson Chapel's decisive TD.
The Wildcats travel this week to undefeated Wynne, their toughest challenge since losing at Class 6A semifinalist Pine Bluff in Week 2.
"Wynne is 12-0 for a reason," Dutton says. "The key for us is to improve like we have each of the past three games. We want to keep it close and give ourselves a chance in the fourth quarter."
The talented Dorsey has scholarship offers from Arkansas Tech, Ouachita and Henderson State, but Dutton expects he could draw more interest after proving his versatility playing QB the past month.
Dorsey has completed 55 of 101 passes this year for 985 yards and seven TDs. He started seven games at receiver, catching 38 passes for 597 yards and five TDs, and he has 79 carries for 454 yards and eight TDs.
"He's definitely one of the bigger reasons we are in the semifinals," Dutton says. "He's taken the reins of the team and performed the best he could. He's a leader who does everything he can for his teammates."
Dutton expects White to get some Division II looks after the season.
Senior safety Michael Williams (6-4, 200) is Watson Chapel's top recruit. The versatile Williams also plays receiver. Williams has 162 tackles this fall, three interceptions and four forced fumbles. "He's a head hunter," Dutton says.
Williams committed to Army, and also has scholarship offers from every in-state Division II team.

Senior receiver Devontre Curry (6-3, 170) could garner some college attention after the season. Curry has emerged as Watson Chapel's go-to threat after Dorsey stated playing QB. Curry caught all three of Watson Chapel's completions at Camden Fairview for 101 yards. The following week Curry hauled in five passes for 103 yards at Sylvan Hills, and last week at Alma he had three catches for 83 yards. Curry needs just 33 yards at Wynne to eclipse 1,000 yards for the season.